RTC Boosts Operational Efficiency and Passenger Experience
By Kilian Ollivier, Business Development Manager, Engie Ineo
BACK IN 2012, the Réseau de Transport de la capitale (RTC), transit authority for the capital city of Quebec, started the installation of a brand-new intelligent transportation system (ITS) and computer aided/automatic vehicle location (CAD/AVL). The RTC choose the Navineo system provided by Engie Ineo and branded it Nomade Temps-Réel.
The main goal of Nomade Temps-Réel was to boost operations efficiency by facilitating fleet management and dispatching tools, and by improving customer communications using accurate and real-time passenger information on several media.
BOOSTING OPERATIONAL EFFICIENCY USING DATA
CAD/AVL systems are primarily used to manage real-time operations in the control centre and on the bus. The CAD/AVL system, provided by Engie Ineo, allows the RTC to track their bus fleet in real time, make the necessary adjustments in case of unplanned events, manage detours, and optimize the use of their fleet and resources while keeping their customers informed in real time.
"One major operational issue for RTC is how to handle the large number of detours in Quebec City, especially in the summer when the roads are often resurfaced after winter," said Thomas Huentz, Director of Operations, North America, Engie Ineo. "Thanks to the detour- management feature of our CAD/AVL, RTC is now able to handle and monitor scheduled and real-time detours while providing drivers and passengers with relevant information on how their journey will be altered. In any given year, more than 200,000 trips are modified due to detours and managed by the CAD/AVL."
By analyzing data gathered on their 135 bus routes, the RTC has been able to save 20,000 hours of revenue services per year on its routes' scheduled time.
IMPROVING SERVICE FREQUENCY AND SERVICE
To date, the planning department of the RTC has gained access to thousands of points of data produced by the Nomade system along each route. Thanks to a careful analysis of this data, the RTC has been able to identify gaps between what was originally scheduled and what was happening in the field.
By analyzing data gathered on their 135 bus routes, the RTC has been able to save 20,000 hours of revenue services per year on its routes' scheduled time.
Luc Samson, coordinator in the RTC's planning department, says, "We have been able to identify the routes where the scheduled time was overvalued, or on the contrary undervalued, which resulted in a gain of hours we reinvested into our services."
The RTC reallocated those hours on other services, resulting in higher service frequency and an improvement in the quality of services they offer to their customers in the Québec City area.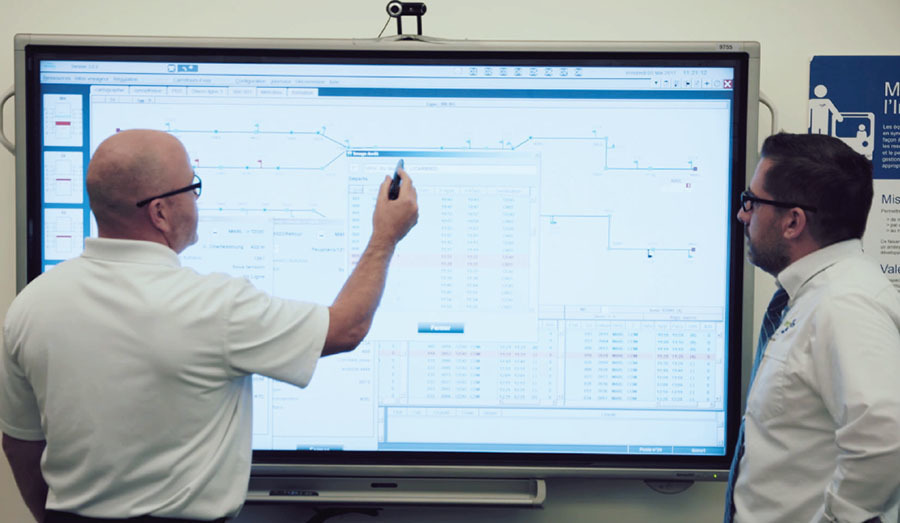 WHAT'S NEXT WITH NOMADE TEMPS-RÉEL?
The RTC will continue the analysis of the data produced by the Nomade system to optimize its dead head trips, which are an important part of each service. The aim is to make sure that the drivers are on route and not losing time before starting their trips. The system allows the RTC to make decisions based on a greater quantity of data and information compared to when they did not have Nomade Temps-Réel.
"The monitoring of the quality of services given to our customers has been improved and it allows us to react better, which leads to a long-term improvement of our services," says Samson.
OTHER INNOVATIONS AT RTC
Another project consisted of getting Dashboard from the CAD/AVL. Dashboard can be used to identify schedule issues before drivers report them, which will help the RTC to fine-tune their schedules more efficiently and rapidly.
Also, to complement the already existing LED display in stations, Engie Ineo and the RTC recently started a pilot scheme demonstrating solar-powered technology for real-time passenger information with solar-powered LED digital signs that can be quickly deployed and easily installed on an existing pole or shelter. The main innovation in this pilot is that audio announcements are built into the signs to inform visually impaired people, compliant with disability requirements. The solar-powered signs can gather enough energy to power the signs 24 hours a day, seven days a week, even in harsh Canadian weather.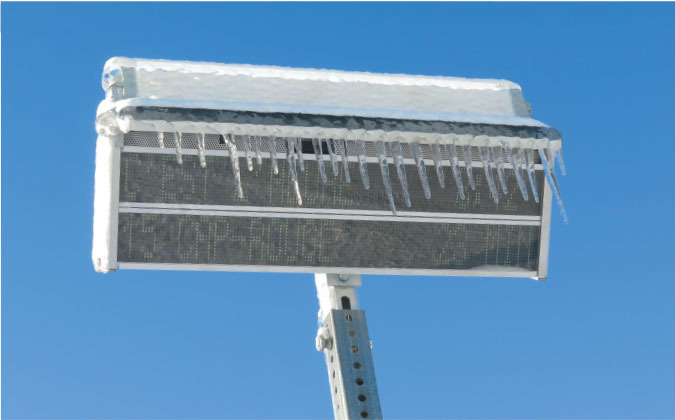 The real-time passenger information (RTPI) signs use GPS tracking technology Nomade Temps-Réel, which provides riders with wait-time information for city buses and projects this data onto signs. Many options are already available to RTC riders, including the Nomade mobile app, website and LED signage located at bus stations.
With this solar technology pilot, Engie Ineo demonstrates its capacity to integrate and expand passenger information in a sustainable way. Says Huentz, "The solar-powered display offers a cost-effective solution to equip the less-attended bus stops with digital signage. No need for expensive power supply installation or modification of existing street furniture. Moreover, it works with sustainable energy while being quicker to deploy."